There is no question that technology generally has a great industrial impact regardless of the type of industry. There is no question that companies are increasingly entrusting their innovation management with technology solutions such as innovation management software. This trend will continue to progress in the future, as the innovation management software provides a structured and interlinked way of working that advances the process of achieving business goals. Innovation management software is a technology tool that enables real-time monitoring, management and measurement of the innovation process. Thanks to this software, top management and executives have access to all information across the entire idea life-cycle, from the idea creation to the post-launch review and, therefore, it is called end-to-end innovation management software.
Companies can have different reasons for implementing innovation management software within the organization. However, to completely understand the value and possibilities of end-to-end innovation management software, it is important to know the range of impact this technology can have on your organization.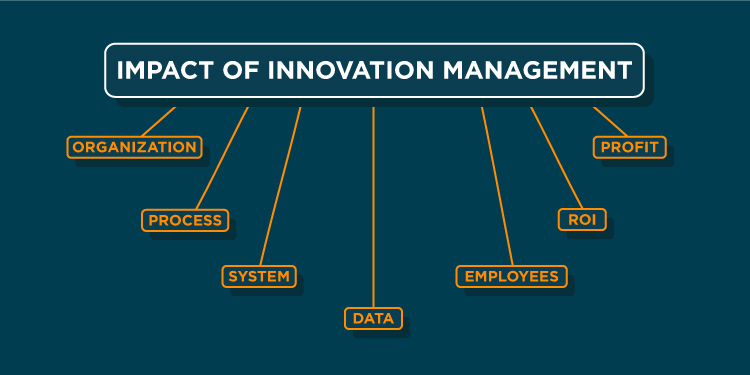 Impact on the Organization – Breaking Down Organizational Silos to Improve Efficiency
Most of the organizations are very isolated and built around functions. These functions usually operate only within their own departments. By implementing end-to-end innovation management software, you will enhance the connection between functions and departments that will result in the creation of structured levels of collaboration and efficiency. You are opening up your innovation process to all employees allowing them to share ideas and insights across the departments and different locations. This transition from closed to open innovation approach and implementing end-to-end innovation management to your daily operations is a change and organizational innovation itself. Therefore, the role of innovation leaders is very important. It is their job to prepare your employees for the upcoming changes and carefully implement the roll-out plan.

Impact on the Processes – Ensuring Strategy Alignment
End-to-end innovation management software enables an interlinked way of working and supports the alignment of your innovation strategy with your innovation process. Your innovation strategy should define goals and set the direction for execution through the innovation process. Innovation management software needs to follow, control and monitor each and every step of your innovation process to ensure alignment with your innovation strategy. As innovation management usually consists of many diverse processes, organizations can now easily manage all processes with single end-to-end innovation management software.

Impact on the System – Connecting Seamlessly to have a Complete Overview
In the closed way of working different tools were developed to support the activities of each function separately, not connected with other business tools. To upgrade the innovation process from a series of one-time innovation projects to a repeatable and structured process, organizations need to connect internal structures, processes and tools. The end-to-end innovation management software will seamlessly connect with your existing business tools and processes, enable the inclusive functioning of the innovation system and improve collaboration and data exchange.

Impact on the Data – Connecting the Data to Enable Better Decisions
The growing requirement for data exchange between multiple systems, functions and departments are needed to support the successful execution of strategic innovation planning, idea generation, idea development and product portfolio management. The end-to-end innovation management software provides constant linkage of various data required for innovation execution and efficient decision-making. Innovation management software enables the transition from a document-centric way of working to a data-centric way of working. This can be a large transformation. Instead of creating and maintaining documents, companies can capture and analyze data that can be used for decision-making, product development, customer experience, etc.

Impact on the employees – Enabling innovative thinking to get innovative ideas
The main focus should not be only on breaking down the organizational silos, but also on providing a secure place with employees encouraged and motivated to share their ideas. If you want a wider scope of participants in your innovation activities you should reward and acknowledge their contribution as this is an important part of your innovation strategy. With end-to-end innovation management software, your employees will have cross-functional visibility of the entire innovation pipeline, as well as the opportunity to create ideas, develop them and successfully launch them to the market. Also, with a system of notifications and announcements, you will promote innovative thinking throughout the organization. Game-based elements of end-to-end innovation management software will assist you in motivating your employees to participate in your innovation activities, while the reports will help you recognize your top contributors and reward them accordingly.

Impact on profitability – Structuring innovation to increase ROI
Managing innovation expenses has always been an important business priority, and this trend is increasing. With a systematic and structured approach to capturing, selecting, developing and launching the right ideas companies can increase the return on investment easily. With end-to-end innovation management software, you will be able to know how much you spend on innovation and where you spend it. Finally, you can compare ROI with ROIs of your previous innovations and take appropriate actions to improve performance and profitability.
By utilizing end-to-end innovation management software, your organization can trigger and capture innovative ideas from the entire workforce continuously advancing the organization development. The positive impact of this technical solution on innovation management is obvious, so what are you waiting for? Contact us today, to explain how Innovation Cloud can support your innovation management objectives and requirements.