To get fresh, new ideas for your next successful innovation, it is imperative to include entire organization: employees, relevant external experts, the voice of the customers, partners, clients, consumers and finally wisdom of the crowd. Powered by social, mobile and cloud technologies, organizations are empowering teams inside and outside the organization to create and channel innovative ideas into reality.
Challenge driven ideation is a new and engaging approach that enables organizations to drive focused ideation and create new products and services, improve existing ones, or even solve a specific problem, by tapping into diverse perspectives and get those ideas faster, more cost-effectively and with less risk, resulting in accelerated innovation outcomes.
This type of ideation is a top-down approach with structured collection and prioritization of ideas based on well-defined, specific topic, usually, time limited and with a reward as a great way of motivating participants to increase productivity and enhance employees' engagement.
There are two directions for this new approach:
• to look for ideas internally, inviting your employees and relevant people to the idea generation process and
• to seek ideas and feedback externally from your online community.
Whether you are seeking for ideas from your employees, listening to the voice of the customers or interacting with your online community, there are two ways to generate new ideas in a structured and efficient manner: with innovation management software that supports Challenges as top-down initiatives and by placing creating a Crowdsourcing campaign on your website.
CHALLENGE EMPLOYEES' CREATIVE THINKING
Challenges application is a perfect tool for capturing, prioritizing and evaluating ideas, as well as measuring the flow of ideas through the innovation cycle. Options to customize workflow, assign challenge owner, challenge sponsor, screeners, reviewers, evaluators and evaluation criteria, will help you create a transparent and understandable process for everyone involved, as well as simplify the decision-making process for your key players. You can control idea visibility and an audience you want to target, with the possibility to include all relevant people outside your organization as well as the voice of the customer to bring additional value to your organization.

With Challenges application, you will be able to quickly find and develop the best solutions for specific topics by involving right people, engaging them effectively and clearly defining workflows and selection criteria.
CROWDSOURCE NEW OPPORTUNITIES AND INSIGHTS
Crowdsourcing plug-in is a powerful tool to reach and listen to your online community, capture their ideas and feedback, work with those insights and convert them into mature ideas ready for implementation. With its simple and customizable form, you can easily set up questions for your online community and get ideas for new products and services or improve existing ones, all of that while working with those ideas in your collaborative environment.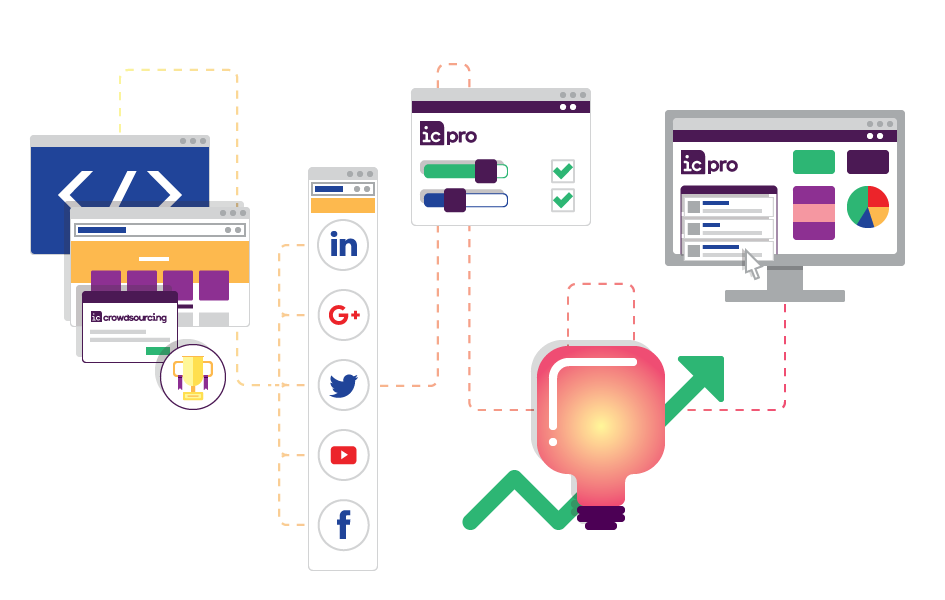 Crowdsourcing plug-in is a great way to increase your brand awareness and promotion since you are interacting directly with consumers and end-users.
Challenge-Driven Innovation: Give your community a Challenge!
Challenge-driven ideation enables a systematic process for identifying and addressing specific problems and opportunities, capturing and prioritizing them, and finding and developing the most original and effective solutions. Combination of these two aspects of challenge-driven ideation provide enough content for you to work with by targeting relevant people and introduces a systematic way to manage that content and actualize only the very best proposals.
Solutions such as Innovation Cloud Challenges application and Innovation Cloud Crowdsourcing plug-in address these aspects using effective and easy-to-use functionalities with proven success record in various business areas.