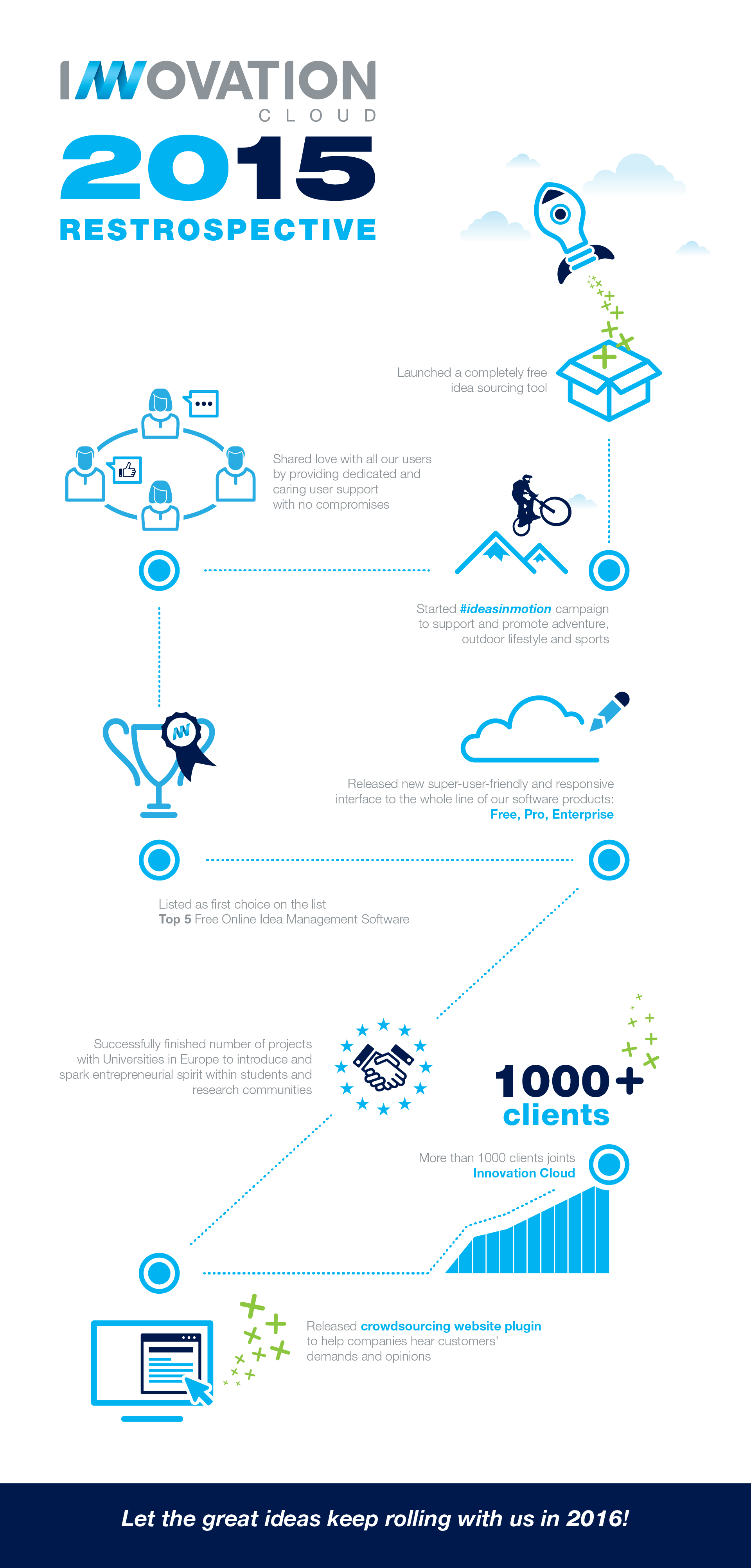 As soon as we've realized it's been almost a year since we launched our free app for ideation, all our employees agreed that 2015 was a very exciting year. Not quite like "Back to The Future" movie, but the year behind us delivered some very useful and creative inventions and innovations from all over the world. Bringing together hard work with our passion for recreation and sports, we at DataStation Innovation Cloud had a pretty amazing year that went by in what it seemed like seconds. In that second, we did some cool things, too!

This is what we did in a second:

1. One idea was on hold for a long time until one day we decided to give it a new life and with it we've enabled all people, no matter if they belong to startups or companies or if they are just ordinary people or housewives, to be able to collect, develop and utilize their unused ideas. 'Cause everyone has ideas! And so, in February, we launched a completely free online idea management tool called Innovation Cloud Startup. It is a very intuitive and easy to use tool, which is able to engage up to 15 people to closely collaborate around their ideas. This tool provides an organized and systematic collection of all impulses that lead to innovation or improvement. For someone, this represents a perfect digital workplace for collecting and managing business ideas, whereas for others it can be a perfect tool to help them make the right decisions in choosing how to paint the house, etc. Watch our video to see and understand Innovation Cloud Startup in action!

2. Besides the hard work and being huge fans of outdoor lifestyle, sports and adventure, we participated in different downhill and Freeride races and we won some awesome medals! In order to support these activities we started #ideasinmotion campaign and we encourage all people that love sports to be part of our campaign #ideasinmotion and to keep riding!

3. We shared our love and our passion with all our users by providing dedicated and caring user support with no compromises. When something goes awry for our clients or if they are experiencing difficulties, our support professionals react promptly and with great commitment. 24/7/365 provided support!

4. We are very proud to be listed as the first choice on the list of Top 5 Free Online Idea Management Software.

5. Released new super-user-friendly and responsive interface to the whole line of our software products: Free, Pro and Enterprise. So our existing and new clients can save time while successfully achieving their tasks.

6. Successfully finished number of projects with Universities in Europe to introduce and spark entrepreneurial spirit within students and research communities.

7. Working on our ideas, we realized that we can't neglect valuable feedback and opinions of our customers. So another idea was created and we developed Crowdsourcing website plugin to help companies hear customers' demands and opinions. In just 3 clicks, you can create an on-going, open conversation with your clients and consumers, with a focus on making your products and services better. It is a simple but effective way to validate your ideas by presenting them to a greater community for their feedback.

8. And lastly, but not the least important is the fact that since the release of Innovation Cloud we've had more than 1000 organizations and teams utilizing Innovation Cloud in their daily work. Among them you can find CEO's, COO's, executives, innovation managers, startups, non-government organizations, photographers, designers and many others... And few of them are from Fortune 500 :)


That's all of us for 2015! We will keep working on our ideas and you'll be the first to hear about our progress! And by the way, if being more innovative is not in your business strategy or on your company's priority list, it definitely should be! And yes, we can help you with that!