Whether you want to admit it or not, the last time you bought your smartphone, you took a closer look at its specifications and performance. As smartphones became an essential part of our lives and more like a mini pocket computer, with every new purchase, we want larger display, advanced camera, expanded battery life and, nowadays, even an improved personal voice assistant.
When it comes to product innovation, we always tend to think of it as a development and launch of new or improved products or services. For some people, product innovation represents something that is "first of its kind" - that was the case with Internet back days, then smartphones, or today, self-driving cars. And for others, it can be just some improvement of an existing product, such as improved camera and battery of your smartphone.
The literature is full of attempts to categorize different types of innovation so let's look at the product innovation as defined by Oslo Manual which categorizes innovation types as an object of the innovation.
Product innovation is defined as the introduction of goods or services that are new or significantly improved with respect to their characteristics or intended uses. For product innovation, the product or service must either be a new or significantly improved with respect to its features, intended use, software, user-friendliness, components or material.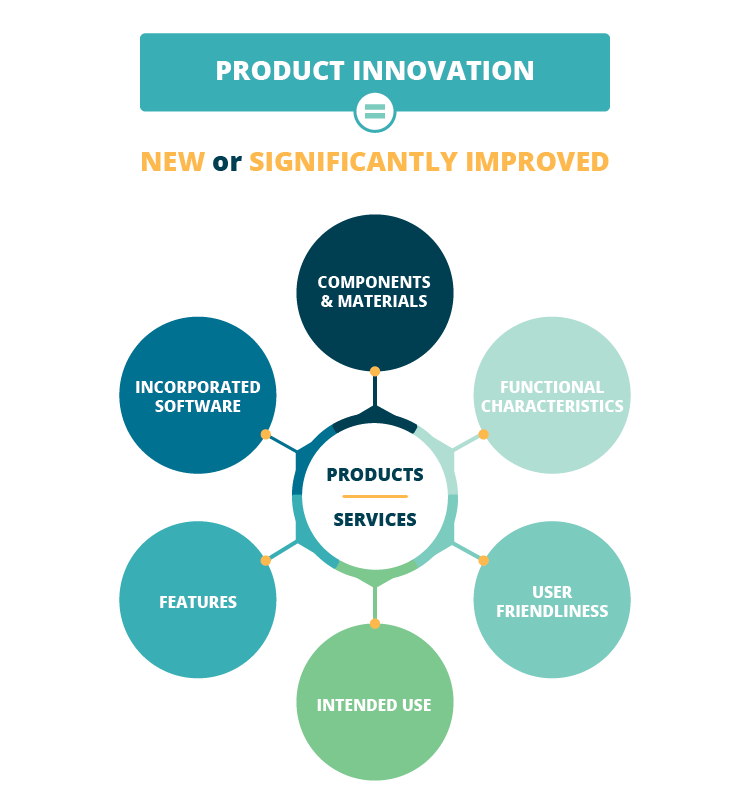 The first smartphone and digital camera are the examples of product innovation. Also, changes in design or features of your smartphone that bring significant improvements in the intended use or characteristics of the product are considered as product innovation.
Back in 1995, Olson et al. suggested the four levels of product innovation:
New-to-the-world products - represents the products that are new both to the company who is developing them and to the marketplace which is using them.
Line extensions – represents the products that are new to the marketplace but not to the company.
Me-too-products - represents the products that are new to the company but not to the marketplace.
Product modifications – are existing products that have been simply modified, i.e. they are neither new to the company nor to the marketplace.

When looking at product innovation through a jobs-to-be-done lens, there is the ideation process, where the idea is defined, development process, where that idea is turned into a product/service, and implementation process – where that new product/service goes live and its success on the market is being measured.
Most proven and common development process in product innovation is a phase-gating process, where entire workload such as design and testing is done within different phases of the process, while the decision, whether the project moves forward or not, is made at the following decision-making points.
Shorter product life-cycles enable the companies to bring innovation to the market faster. Product innovation and new product development is an important strategy for increasing the market share and overall performance of the business. Trends towards higher levels of automation promise greater speed and precision of production as well as reduced exposure to dangerous tasks for employees.
Product innovation is one of the key factors that contributes to the success of a company. Every product development cycle must seek to maximize the value for customers since its aim is to attract new customers. You can collect and use customers feedback and turn it into improvements or even new products.
The new technologies of the Fourth Industrial Revolution that we are witnessing impact every step of the end-to-end production process and changes how, what, why and where companies produce and deliver products and services. They have the potential to transform the traditional way of production, reduce time and cost of production and reduce risk such as improving the safety of products.
Do you plan to introduce new ways of product innovation?