Being an end-to-end innovation management platform, Innovation Cloud continuously seeks to integrate its services with existing business software which is deployed in today's working environment. Our connection with Slack is the most recent extension of this enhanced connectivity. As of today, you can automatically sync your Innovation Cloud notifications with your Slack channels so your teams are always completely and timely informed on all your innovation activities being managed inside Innovation Cloud.
Increase team collaboration and engagement on your innovation activities by 30%
McKinsey's research shows that the use of online collaboration tools and digital workspaces provide a 20-30% increase in workers' productivity. This is what Innovation Cloud is all about: ensuring that your complete innovation cycle runs as efficiently as possible. Innovation Cloud now offers the unique feature to synchronize key aspects of your innovation management activities within your Slack channels, consequently ensuring that your employees are automatically informed on all activities, changes and updates within Innovation Cloud. Your team will receive automatic notifications on all innovation activities in their Slack's channels, enabling easier communication about their ideas and innovations and faster response and feedback.
Never miss a project deadline due to the absence of relevant information
Meeting deadlines is important to successfully deliver on any innovation project. The Innovation Cloud environment is fully equipped to manage even the most complex innovation projects. Our connectivity with Slack now enables us to feed the most relevant information about your project deadlines and delivery inside your Slack channels to ensure that all your team members remain informed. Keeping a close eye on your due dates and deadlines will ensure that there are no delays. For example, your Slack channel will receive notification that the due date for some of your innovation activity is approaching. If this innovation activity is at risk of being delayed, you will be able to react quickly and adequately to resolve the situation.
Keep track of the progress of your ideas and innovations with your team
According to ClearCompany, "97% of employees and executives believe that the lack of alignment within a team impacts the outcome of a task or project." To stay committed to the work that matters most, Innovation Cloud now connects to Slack to keep track and remain aligned on the progress of your innovation activities. Real-time notifications will assist your team to stay on top of the latest changes and updates ongoing in your innovation activities, enabling them to react immediately and adequately.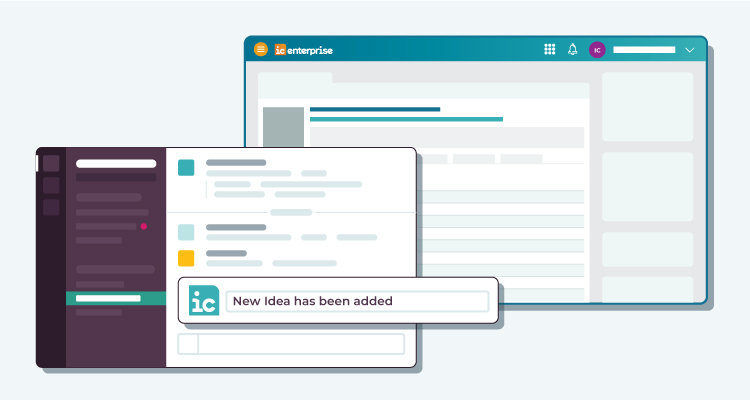 Changes to track and stay fully informed
The Innovation Cloud integration with Slack will enable your team to track updates and changes that you make within Innovation Cloud —in real-time in case of:
A new idea being added, receiving comments, being scored and/or approved
New Challenges being created
Challenge winner is being proclaimed
A new innovation project is being added
Gatekeepers approving project Review phases
A new task is being set, documentation is being added,...
The red flag is set on innovation
The innovation launch date coming to expiration
And more...
Our real-time integration with Slack enables you to display all the key aspects of your innovation management activities inside your Slack channel, herewith ensuring that your employees are always aware of the latest status and can react in the most efficient and effective manner.
Innovation Cloud will continue to expand its connectivity to relevant business software such that you can enjoy the full benefits offered by Innovation Cloud regardless of your preferred communication channel.